Happy Christmas from our ingenie family to yours

Well, it's been, err, an interesting one folks.
Never in a million years did we predict we'd be sitting down to reflect on the last 12 months and ticking 'Fighting a Global Pandemic' off the top of the list. Is this really happening still? Or are we going to wake up and it's all just been a very elaborate dream? Wishful thinking perhaps.
Nonetheless, for all of the incredibly difficult and unprecedented challenges 2020 has brought us, it's important to look back on how much good it's shown us too.
What 2020 taught us
So much. So, so, sooooo much. From big life lessons on how to protect your mental health to smaller realisations like how to host a successful team meeting online. Tip: it helps if you unmute yourself.
For the most though, there's 3 things we can all take away from this year and promise ourselves we'll continue doing:
Take care of yourself (properly)

We're all busy people often trying to spin 15 plates at once, but this pandemic has pushed self-care from the 'nice-to-do' list to the 'must-do' list.

Looking after your mental and physical well-being shouldn't be seen as an optional luxury, and if you feel like you're being self-indulgent next time you make time for yourself, remember that you can't help others if you don't help yourself first.

No one can be a knight in shining armour when their tyres are flat. Or, when their horse is flat? Anyway, the point is, you need to invest in yourself before you can come to the rescue of others. So, when life gets crazy again, remember your lockdown learnings and take a step back to recharge your own batteries.

Go back to basics

With all the different tier systems in place across the country the last few months have felt a little hectic. We went from being in a total lockdown with little in the way of entertaining ourselves, to being allowed back out in the wild with a surge of socially-distanced Christmas events charging at us. Gulp.

This year has shown us that staying home and keeping our days as free as possible actually has a HUGE amount of benefits. Picking up hobbies again that were sat gathering dust, getting outdoors, finding creative outlets, catching up on your sleep, eating well, exercising, finding time to read and learn new things... all invaluable.

Living a happy life is all about balance and thanks to pressing pause this year, we understand that more clearly now.

Stay connected

Maintaining regular contact became more important than ever this year, especially with those stuck self-isolating at home. Family, mates, colleagues, neighbours, the man down the road who used to run the newsagents, the furloughed friend...literally everyone needed a shoulder to cry on (virtually) and someone to talk to to help make sense of it all.

It's one thing to send a quick 'How are things?' text to someone you care about, but another to make time to listen. And just like any gesture of goodwill, reaching out to someone in need is a guaranteed win-win situation. Doing a bit of good and feeling good after - let's make sure we keep that going.
The perfect ingenie Christmas?
We know that Christmas is going to be a different one and we might not be able to enjoy our usual traditions, but we were still excited (nosey) to find out what the perfect Christmas Day looks like to our ingenie drivers.
Here's what you said:
Real or fake tree? Fake - 69%🎄
Christmas crackers or party poppers? Crackers - 83%🎉
Let it snow? Yes - 80%🌨
Brussel Sprouts? Nope - 59%😷
Roasted or mashed spuds? Roasted - 80% 🥔
Yorkshire puds? Yes please - 93%😍
Meat or no meat? Turkey - 86%🦃
Queen speech on the tele? Nope, nap time! - 53%👸
Choccy choice: Heroes or celebrations? Heroes - 57%🍫
Christmas jumper? Of course - 83%☃
Thanks to everyone who took part in all our festive fun on Facebook, Twitter and Instagram, and congrats to all our winners!
Onwards and upwards
No one knows what 2021 has in store for us all, but we can say with certainty that we now have the skills, mindset and resilience to adapt to anything that does come our way.
Pat yourself on the back, put your feet up and pour yourself a glass of your favourite tipple - you got through 2020, Champ.
From all of us at ingenie, we wish you a peaceful Christmas and a happy, healthy new year.
---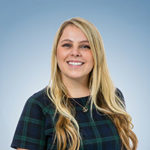 By Katey Gregory
Katey Joined ingenie in 2014 and is in charge of all things social and content. She passed her driving test in 2015 and her first car is a Toyota Yaris T3 named Tyrone.