And the winner of a brand new Vauxhall Corsa is…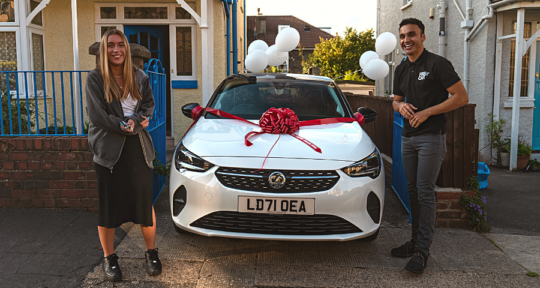 Congrats to our 2021 winner, Alana Young!
For the past 5 years, ingenie has partnered with FirstCar for their Spin To Win competition, so we've got into the habit of making the lucky winner's car dreams come true and this year we've done it all over again.
Let me set the scene, you entered the Spin To Win competition and a little while later you find out you're a winner, a top of the range sat nav is coming your way. Awesome! But imagine if that wasn't all…
This year FirstCar wanted to try something a bit different and we were totally here for it! After some secret planning with Alana's dad - having asked for a parent email address to help with arranging sat nav delivery 😉 - we were well on our way to surprising Alana with what she'd actually won - a brand new Vauxhall Corsa Griffin, worth £18,850!
A word from the winner
To say Alana was shocked would be an understatement. As she left the house, even forgetting to put her shoes on, she took a seat in her brand new car. (I could see her hands shaking from about 5 metres away!)
"Is it really mine? I can't believe it, I didn't give it a second thought after I entered. I never thought I'd win."

Alana Young
Bristol
As it turned out, Alana's had a rough few weeks. Having caught Covid in early September, she had to cancel her driving test as she'd missed too much practice to feel confident. I guess you really never know when your luck is about to change.
While admiring her brand new wheels, Alana told us that she's been looking for a car to buy for when she passes her test, "something white for about £500". Well, we've certainly saved her a job, a few ££'s and randomly managed to get the right colour too!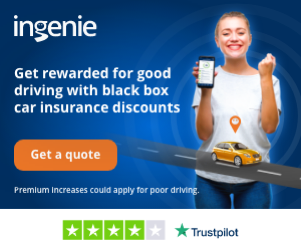 Talk about a dream first car
We can all agree that Alana's new car looks amazing but that's not all that's important to us. Helping to keep drivers safe on the road is key to so much of what we do at ingenie, so it's great to know the Vauxhall Corsa Griffin comes with some top-notch safety features:
Lane departure warning with lane assist
Driver drowsiness recognition
Forward collision alert
Speed sign recognition
Automatic emergency city braking
Automatic anti-dazzle rear-view mirror
Oh, it's tech and styling are pretty decent too:
Multimedia Navi system (she might not need that sat nav after all!)
7 inch colour touchscreen
Bluetooth audio streaming
Apple CarPlay/Android Auto
Air-con
Heated front seats and steering wheel
OK you get the idea!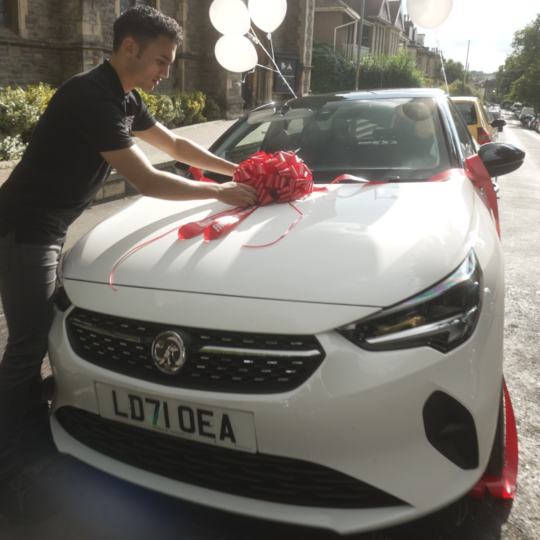 Brand new Vauxhall Corsa
We'd love to welcome Alana to the #ingeniefamily once she passes her test, we think it'd be the perfect fit.
"We're very proud that our technology encourages safer, more mindful driving in young people, from the day they pass their test. Congratulations on the win, and good luck for your test, Alana!"

Selim Cavanagh
ingenie CEO
Thank you and congrats!
To all the learners, new drivers, experienced drivers and instructors who entered, thank you for taking part.
And a big shout out to the team at Robins & Day Vauxhall Kingston for sourcing the prize again this year and delivering it safely to our winner.
But Spin To Win isn't just about one winner. This year there were over 1,500 other prizes up for grabs, from sat navs, dash cams and driving apps. Congrats to all the winners!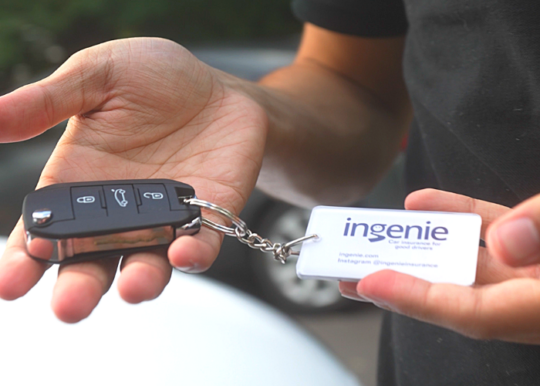 Win with ingenie and FirstCar
And of course, to Alana, such a good sport as we rocked up to your door for the surprise of a lifetime. Now all you need is to pass your test and get some ingenie car insurance. 😊
Enjoy your brand new car and good luck with your driving test!
Another brand-new Vauxhall Corsa, along with 1,600 prizes, are up for grabs in the next prize draw. So head over to FirstCar's Spin To Win to get involved!
---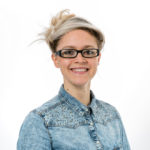 By Lucia Tregellis
Lucia joined ingenie in 2015 and works on all our social media stuff. Her first car was a super old VW Beetle, but soon realised it wasn't ideal for a new driver and changed to a yellow, new style Mini Cooper, named Bradley.