Lockdown Learnings: what the pandemic taught our drivers

The Coronavirus pandemic has undoubtedly changed everyone's lives over the last 6 months. Our usual routines, hobbies and lifestyles have all been put on hold while we hunkered down at home, protecting ourselves and others.
Despite having a long way to go in our battle against Covid-19, things are starting to look a little brighter, and often in extreme situations like the ones we're facing, good things do emerge.
We asked our ingenie driving community to reflect on what lockdown has taught them and to tell us one thing they've realised as a result of pausing their usual busy lives.
Here's what they had to share
Realising how dependent we are on social media. Taking a break and spending time with family or reading a book is really important for your mental health and your personal relationships!

Leah
Twitter
Lockdown taught me I can actually save money and don't need to be spending on unnecessary things everyday 🤦🏻‍♀️ #LockdownLearnings

Rachael
Twitter
Lockdown has taught me to love myself a little bit more instead of trying to look my best every day so I don't feel self conscious, it's also taught me to love the skin I am in which I didn't ever have time to truly think about before💗

Megan
Facebook
"I have learnt from my partner during lockdown that I am apparently super annoying and need to get back to work asap."

J
Instagram
To never take friends and family for granted and how important it is to check up on each other💕

Rachel
Facebook
How my dogs feel when we've all gone to work and they're stuck inside, I now understand their pain.😅

Becca
Instagram
How the little things in life, really shouldn't be taken for granted. How nice is it to be able to see family and friends in person and not through a screen?

Ryan
Instagram
To be kind to everyone; family, friends, and strangers. #LockdownLearnings

Nicola
Twitter
Not to waste food 🥫 and don't take anything for granted 👨‍👩‍👧‍👦 and make sure to have toilet paper 😁

Chris
Instagram
A few from the ingenie team
I've learnt how to save money (by not spending hundreds of pounds on takeaway coffee) and to support smaller companies by ordering clothes from there instead of bigger brands.

Jess
Marketing
I've perfected the art of paint by numbers, vegetable growing and crochet. It's been a wild lockdown in our house. 🤣

Chloe
Operations
To make time to pick up the phone instead of always sending messages back and forth. Phone calls are good for the soul! So much more enjoyable than a text or email conversation.

Katey
Marketing
Our £25 Amazon voucher winner!
Lockdown has taught me to use my bike instead of taking public transport or driving. It's really boosted my mental health and made me realise how much I love being in nature ❤️

Louise
Instagram
Thank you to everyone who entered and shared their #LockdownLearnings with us, it really is amazing how much good we can take from difficult times. And if you haven't followed us on Instagram yet, get over there now!
---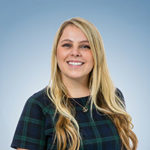 By Katey Gregory
Katey Joined ingenie in 2014 and is in charge of all things social and content. She passed her driving test in 2015 and her first car is a Toyota Yaris T3 named Tyrone.