Meet ingenie driver: Terence Sharpe

So how've you been keeping busy during lockdown, Terence?
As we're able to leave the house a bit more now I've been spending a lot of time outdoors and in my local parks. I drove about an hour to enjoy a day at the beach recently which also gave my car a good run for the first time in a while!
Where I've not been driving my usual miles I've also made sure to keep on top of my car checks during lockdown, just to make sure it's still running ok for when I need it for quick drives into town.
What's your fave and worst thing about driving?
Ooooo, night time driving - definitely. I miss travelling back from work at night listening to Kiss or Heart on the radio.
Something I don't miss though is people driving really close behind me. Tailgaters are the worst.🙄
What advice would you give to a learner driver?
Make sure you find the right driving instructor who suits you and your learning style. You need to feel safe and happy and if you don't feel that, then change.
Going for the instructor who charges the cheapest rate for their lessons might not necessarily be the best one for you - the same applies to choosing a car and sorting your insurance. You need to do a bit of research before you sign up to anything.
Find out more about the different insurance options for a learner driver.
Most learners worry about passing first time, did this bother you?
I passed my practical first time but my theory on the second go and felt fine about it. Don't worry if you pass 2rd, 3rd or 6th time! It's normal not to pass first time - not everyone is the perfect driver.
When it comes to your theory test, make sure you revise and do as many online tests as you can. They'll help you so much as a driver in the long run, not just for the test.
On the day of your practical test, it's important to relax as the driving examiner is really only there to see how much you have learnt and how well you cope with driving on your own. After all, that's what you will have to do when you pass, so you want to know you're ready for that.
What made you decide to buy car insurance with ingenie?
Choosing the right insurance is the main thing as premiums can be pretty high for a new driver. I wanted a black box as I knew it would help keep the cost of my insurance down.
I looked at ingenie for many reasons. Most important to me was the price and if I drive well I can earn discounts with ingenie throughout the year. Another plus for me was their insurance didn't have any curfews so I can travel for my theatre work at anytime.
How's your driving feedback looking at the moment?
Not too bad at all! I'm on a driving score of 96 and my ingenie driving feedback is pretty much at a good level for my acceleration, braking, cornering and speed.
I haven't been driving as much lately of course, but I'm looking forward to getting back to driving regularly and earning my insurance discounts.
"ingenie are the best insurance to be with. You get amazing benefits with the black box and they're always running competitions where you can win stuff." 😀
Now you've been on the road a while, what are your 5 top driving tips?
Always check your car before long journeys, including tyres, oil and petrol.
Make sure you're fully awake whenever you get in the car. Being tired will impact your driving even if you think you're fine.
Make sure you tell your friends to behave in the car if they get too loud for you to be able to think when driving.
Don't always feel you have to give everyone lifts!
Only drive in weather you feel comfortable driving in.
What are you most looking forward to after lockdown?
Seeing family and friends, getting back to work and of course...Maccies. 🍟🍔
20 nuggets, fries and coke is my go-to order! Can't wait.
Any last words before you head off, Terence?
I've been with ingenie now since 2016 and love it - best insurance company. If you're looking for car insurance as a learner or even a new driver, go for ingenie. They are worth it.
---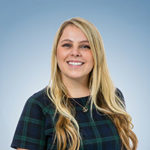 By Katey Gregory
Katey Joined ingenie in 2014 and is in charge of all things social and content. She passed her driving test in 2015 and her first car is a Toyota Yaris T3 named Tyrone.