How I passed my driving test (finally)
This post is about the old driving test. If you're taking your test after 4 December 2017, you can find out more here.
About 4 months ago I wrote a post about failing my driving test. I was disappointed because it was 1 very silly mistake (stopping at a green arrow) that cost me the pass, but I was encouraged by getting just 3 minors. Back on the horse, I thought.
3 driving tests later, I wasn't feeling quite so chirpy. I fell into the classic thought process of "It's so unfair, I'm ready, I just keep getting unlucky" - despite knowing full well that if you fail, it's pretty much certain you weren't ready to be driving alone.
On the day
Well, it was just about the most dreadful drive I've ever done. You know I said I was getting 3 minors on every test? I got 11 minors. 3 for not checking my mirror before braking suddenly - 1 more and I would have got a dangerous fault and failed.
A bad beginning

Things went wrong within 5 minutes of leaving the test centre. The examiner took me on a route I'd never been before, including a massive roundabout. I approached on the right, did my observation and pulled out - only to be faced with a line of traffic I couldn't join. So I was stuck with my butt out, at a right angle to the lane I needed to be in. That was where I thought I failed.

A middling middle

Things continued to go fairly poorly for the whole drive. My reverse around a corner was good and I generally did OK with following directions and stuff, but I was a bit all over the place. It certainly wasn't a smooth and elegant drive.

A bad end

I managed not to stop at any green lights this time, which was a blue-eyed miracle, so we got back to the turning for the test centre without me crying. Then I stopped really suddenly because there was a car turning in the road I need to go into. The examiner actually said "Ooof" at this point, which I took as the final nail in the coffin.

Surprise!

So, in we drove. Misery face on, I stopped outside the test centre and gazed gloomily at my driving instructor, waiting there all hopeful. I tried to convey the bad news with my eyes so he didn't have to hear it from the examiner but while I was pondering telepathy, she'd started talking. "I'd better listen I suppose", I thought - tuning in just in time to hear her say "You'll be pleased to know you passed."

Um. What? Are you feeling alright, dear? I threw a lightning fast thumbs up at my instructor to repair the damage I'd just caused to his hopeful mood and listened as the examiner talked me through my minors. Nod, hmm, smile, serious nod, OK, yes, OMG WHO CARES I PASSED.

Once she'd toddled off, I got out of the car and ran to give my instructor a hug - finally, we made it!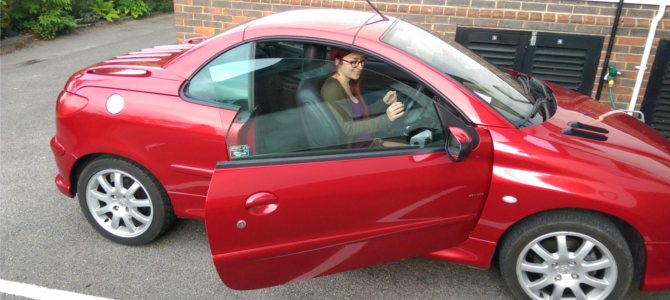 I can has car?
What made the difference
When my driving instructor told me he was going to be away for a whole month over the summer, I panicked. I thought "How in the hell am I going to get myself ready for another test?!" So I bought a car. I figured I could squeeze in a bit of that private practice I never got (starting to learn AFTER leaving home brings a few operational difficulties).
I started driving with my mum - in the rain, in the dark, in a strange car. And it really helped.
Firstly, it made me understand how CARS work instead of just the Clio I learned in. Secondly, it made me feel like I was bang in control of the Clio. Yes, I bought a pretty silly first car - a Peugeot 206 CC. After realising I could handle something so completely different, getting back in the Clio was like driving a toy car: I was confident at last!
Why you need private practice
It gets you used to DRIVING not 'driving this car with this person at this time'
You'll experience different road and weather conditions
You'll be forced to think more as your supervising driver can't take over
Getting used to a different car will push your skills and help you improve
You'll feel way more confident with more practice
If you're considering private practice with your mum / dad / uncle / cousin / neighbour / preacher, get them to read our guide to what NOT to do before you start.
Please, please remember
I have read so many stories like mine. You think it's over and you've screwed it up but it's very likely you haven't. I said sorry about 30 times in my test, feeling like a complete prat. I think the fact that I did was important though - it showed I knew where I'd done something less than ideal.
As long as your observation is good (and you don't stop at green lights), it appears that the driving test is not the nightmare you think it is.
---