Stacking up the cash with ingenie Rewards

What would you spend £1,000 of free cash on?
ingenie asked this question to one thousand young people and got a whole array of interesting answers. From buying a new car, luxury holidays, treating family members, donating to charity and of course - paying off car insurance.
Sounds great doesn't it? And the best bit is you can significantly increase your chances of being able to do those things by getting involved with ingenie Rewards. Just head over to the app stores and download ingenie Rewards on iOS or Android.
All you need to do is drive with our app to earn entries and we'll pick a winning name EVERY MONTH.
If I had £1,000
Well she does now! March's winner is...Daniella Gothard, from Bradford!
Wow, completely forgot I was entered in this competition, thank you so much! I'm going to spend the prize money on a holiday for when I graduate University in the summer. I wasn't expecting to be able to go anywhere, still can't believe I've won the money! Thank you so so much!

Daniella Gothard
If there's anything we like to see the prize money being spent on (apart from all that car buying stuff 😜) it's a holiday after a long slog of studying and exams.
Daniella doesn't know where she's off to yet as the money was such a surprise to her, which makes things even more exciting. Spain? New York? Paris? The world is your oyster.
Have the best time Daniella, and send us some pics of wherever you choose so we can all make ourselves jealous at ingenie HQ.
Got a car? Got a phone?
Get downloading and you could be next on the ingenie Rewards wall of fame.
Download for iOS
Download for Android
You can see the full terms and conditions here.
---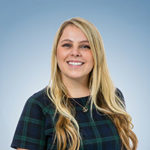 By Katey Gregory
Katey Joined ingenie in 2014 and is in charge of all things social and content. She passed her driving test in 2015 and her first car is a Toyota Yaris T3 named Tyrone.