2019 brings another ingenie Rewards winner

Happy New Year! We're back and we're starting the year with positive vibes... that means CASH.
For those of you who have just joined us, now's a great time to tell you about ingenie Rewards: an app that enters you into a prize draw every month for a chance to win £1,000.
The app helps us research driving data as part of the bigger projects we've got going on at ingenie, and since you guys drive with a black box everyday we didn't need to look any further for our experts.
Anyone who is an ingenie customer can drive with the ingenie Rewards app and take part in the research. However, to WIN, you'll need to meet these prize draw terms:
You must have an active ingenie policy
You must have an ingenie black box fitted in your car
You must not have had a Highly Dangerous black message
Just download the app and drive as you normally would and your name could be picked in January's prize draw!
December's winner
Last month's winner is...Jackie Vermeer from Dunstable!
"I was really shocked when I read the email! I'm going to Disneyland soon and I'm taking my little sister so the cash will be put towards our spending money. 🙂 "

Jackie Vermeer
We're really glad to see the money has come at a good time for you - especially just after Christmas! And what better way to spend the cash than a lovely family trip.
Have a MAGICAL time at Disney and give Minnie and Mickey and big hug from us.
Congratulations!
Want a shot at winning?
Download the ingenie Rewards app for a chance to win £1,000 cash.
Download for iOS
Download for Android
You can see the full terms and conditions here.
---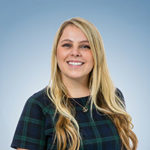 By Katey Gregory
Katey Joined ingenie in 2014 and is in charge of all things social and content. She passed her driving test in 2015 and her first car is a Toyota Yaris T3 named Tyrone.