Protecting your driving licence details online
Passing your test is fantastic, amazing, brilliant. You want to tell everyone that you're FINALLY allowed to get in that car and go.
Oversharing
So you selfie with your driving instructor, you selfie with your old L-plates, you selfie with your brand spanking new driving licence. Then you share everything all over the internet.
Without thinking about it, you've just given the world enough personal information to use your identity to commit fraud.
You're on top of the world now, but how would you feel if, months from now, you discovered that your identity has been used to obtain a loan or a credit card in your name? That would kind of ruin it, huh?
What's on your driving licence:
Your photo
Your name
Your date of birth
Your signature
Your address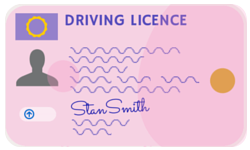 All these things together are like Christmas for an identify thief, so be very careful what you post online.
---