Insurance jargon explained
The insurance world is filled with jargon - we're the first to admit it.
So, as an insurer (well, technically a broker but we'll get to that) who focuses on young drivers, we get that most of the terms thrown your way are tricky to get your head around. Even the most experienced drivers will sometimes have complete blank-face moments when buying insurance.
BUT NEVER FEAR! By the end of this post, you'll be an expert in insurance, which is something that could save you money but probably won't get you any dates.
Let's start.
Underwriter
The underwriter sits UNDERneath the insurance you buy and they're the actual 'insurer' in the relationship.
The underwriter's job is to look at the risk involved in insuring you. They analyse all your details along with tonnes of historic data they have on other drivers to help them calculate a quote for you. This is important as these are the guys who will be paying up if you have a crash.
We have a panel of 5 underwriters at ingenie - Royal & Sun Alliance, Ageas, Covea, LV and Markerstudy - and they all have different historic data on risk, which means we can pick the best price from the bunch to offer you as an individual.
Broker
A broker is a company that sells a product on behalf of someone else. Sometimes, when you buy an insurance policy, the company will be a brokerage rather than an underwriter. Even though the 'insurer' you buy insurance from could be a broker, they're quite likely to just get called an insurer anyway - so don't worry too much about the difference!
The broker exists to make insurance easier by being the middleman between underwriters, claims, legal stuff, customer service, box fitting, and all the other things involved in making your insurance happen.
ingenie actually isn't just a broker as we also provide the telematics (another big word, sigh) - all the black box technology and driving feedback that comes with our insurance. We're the whole package.
A broker is pretty much a guiding hand in the complex world of insurance, so they're the people to go to when you need to ask a question, get advice and find support for any problems.
If you ever need any help as an ingenie driver, you can talk to us (your broker!) on Facebook, Twitter, Instagram, email or phone.
Aggregator
This is a website that takes your personal details, searches its database of insurance brands and puts all your options in front of you to compare.

Examples of these are sites like Compare the Market, MoneySupermarket, Go Compare and so on. These are regularly updated and take the legwork out of finding the best quote.
Rating factor
This links back to our friend Mr Risk and is a factor that underwriters use to work out the price of your insurance. The main ones are the type of car, your age, address, occupation, mileage, claims, medical conditions, convictions, driving licence type and any named drivers.
When you first buy insurance, you're a stranger to the underwriter - so it's a gamble for them to offer cover without knowing anything about you. This is where rating factors come in. They help build a picture of who you might be, based on behaviour the underwriter has seen from people with similar details in the past.
This is one of the reasons ingenie exists, as we figured that basing YOUR insurance on how some of YOUR MATES might drive is a bit rubbish. By fitting a black box to your car and driving well, you can earn up to 21% off your insurance 3 times a year and you have more control over what you pay.
Once you finish the first year with your insurance company, they will hopefully offer you a price that's more accurate to you as a driver. Again, this is where black box insurance works so well, as the underwriter can see exactly how you drove throughout the year rather than relying on statistics from drivers similar to you.
Claim
One that no one wants to have to deal with but hey, it happens. A claim is when you ask your insurer to cover losses caused by either yourself or someone else (usually called a 3rd party). This is likely to be a crash but can also be things like lost keys, damage to the car or a windscreen replacement.
A car crash claim will always be categorised in one of 3 ways:
Fault (the circumstances around the crash were your fault)
Non-fault (the other driver's or third party's fault)
Split liability (fault is split between the people involved)
The outcome of the claim will depend on who the underwriters think caused the crash - so in a fault claim, your underwriter would cover the costs for any damage, loss or injuries and you would lose your No Claims Discount (check the next section).
In a non-fault claim, the other driver's underwriter would be responsible for paying out and you would keep your No Claims Discount.
A split liability claim doesn't necessarily mean 50/50 blame, it can also be 75/25 - which will mean you're 25% responsible for the incident.
No Claims Discount
Just for fun, a No Claims Discount can also be called an NCD, a No Claims Bonus, or NCB - yep, confusing. This is the number of years that you haven't made a claim on any insurance you've had.
The more years you have claim-free, the bigger the discount you should get on your insurance price each year because it shows that you're a good - here comes that word again - risk.
90% of ingenie drivers end their first year with a No Claims Discount.
Excess
This is the amount YOU pay towards a claim and comes in 2 parts.
Compulsory: the amount you have to pay if you have a fault claim.
Voluntary: the amount you're willing to pay on TOP of the compulsory if you have a fault claim. Usually this makes your upfront insurance quote cheaper but it does mean you have to pay BOTH if you have a crash so it's important you choose wisely.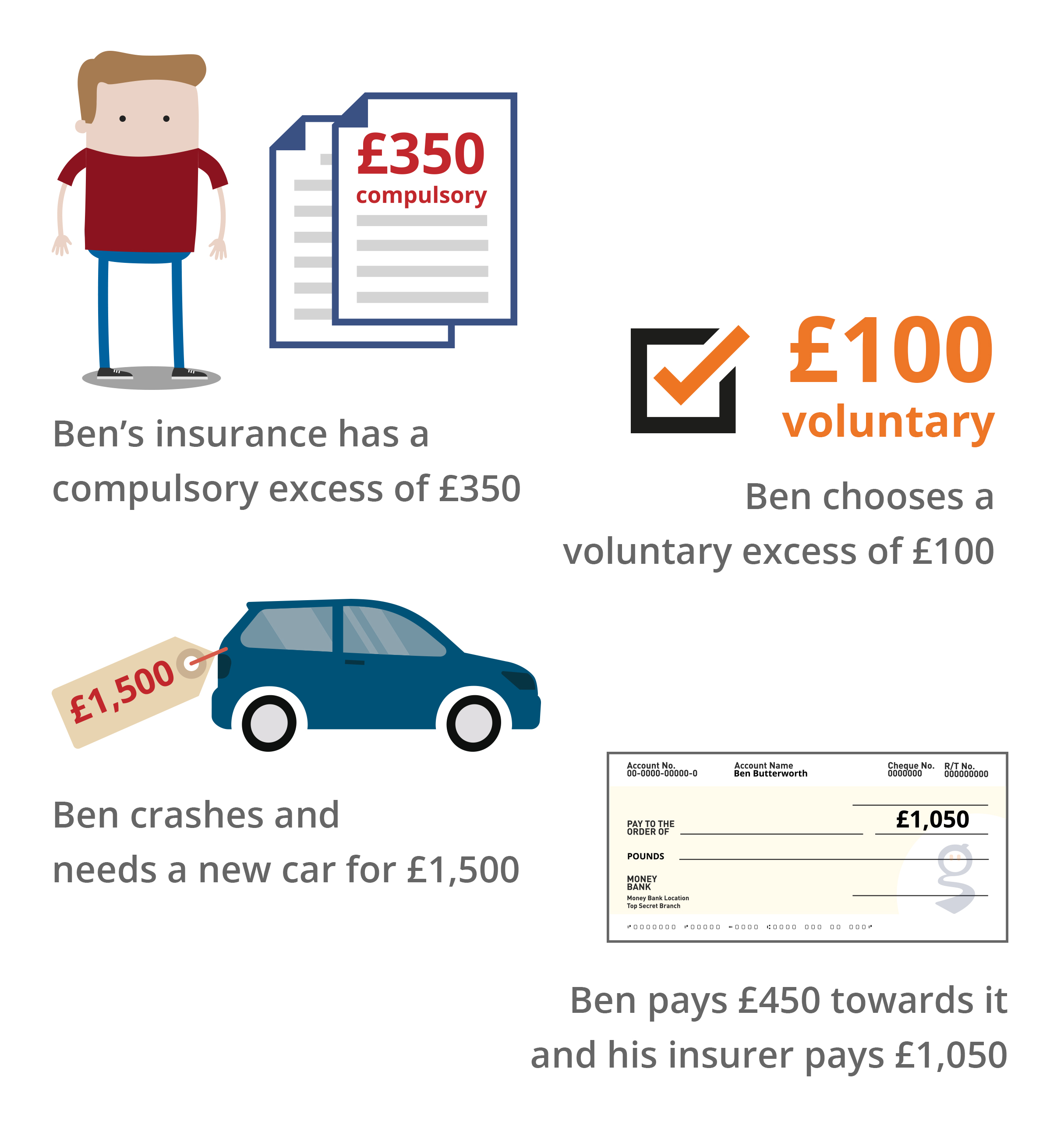 Third party
No, not a measure of how hardcore your weekend was - it means someone else that's involved in an insurance claim. You'll most likely see this when you're choosing your type of insurance cover.
| Third party | Third party, fire and theft | Fully comprehensive |
| --- | --- | --- |
| Only covers damage you've caused to other people and their property. | Includes everything third party does | Includes everything third party, fire and theft does |
| | Covers your car in the event of a fire, theft or attempted theft | Includes accidental and malicious damage to own car |
| | | Also includes windscreen damage to own car |
Premium
A premium is just a fancy term for the price you pay for your insurance over a set amount of time. It's basically the contract between you and the insurer that you've agreed to pay. As it's a contract, failing to stick to your side of the deal and pay the premium would mean an automatic cancellation and usually a bunch of fees.
Most insurers will give you the option to either pay the premium upfront as a lump sum or in instalments across the whole year.
MID
One you might not be so familiar with is the Motor Insurance Database. The MID is the hub of insured vehicles in the UK - this is where insurers will provide the details of every car they have insured with them. It's used by the police and the Driver and Vehicle Licensing Agency (DVLA) to check that people aren't driving uninsured.
MIB
If you're unlucky enough to be hit by an uninsured driver, the Motor Insurance Bureau are in charge of making sure you're properly compensated for any damage caused to your car or any injuries you've sustained from the crash. They also help the police target uninsured cars used for crime and reducing the number or drivers hit by uninsured vehicles.
Updated: 02/01/2019
Heard another term you're unsure of? Leave us a comment and we'll explain it in normal, human words. No robots and no grey suits.
---
Katey Joined ingenie in 2014 and is in charge of all things social and content. She passed her driving test in 2015 and her first car is a Toyota Yaris T3 named Tyrone.