How ingenie's Katey passed her driving test first time
This post is about the old driving test. If you're taking your test after 4 December 2017, you can find out more here.
Katey is our social media customer service lady - she's the person you'll usually be talking to on Facebook or Twitter.
Katey JUST passed her test (just like me!) and she happened to ace it in 1 go (nothing like me), so I asked her how she'd describe her driving test experience while it's still fresh in her mind. It went a little something like this:
How I prepared for my test
"Once I'd booked my test I upped my lessons to 3 or 4 a week instead of my usual 2. I spent a few days swotting up on the show me, tell me questions and watching loads of test day video clips on YouTube.
"I also looked up some possible test routes and Google Mapped my way through them to get an overview of the roads they might take me down. I had 2 lessons that week but I wasn't able to practise any manoeuvres as the weather was so bad and it was getting darker a lot sooner.
"I still hadn't looked under the bonnet as this point and was starting to worry that I wouldn't learn all the parts/checks in time, so I dragged my instructor out in the rain with a torch and asked him to run through it with me. He was thrilled."
Just before the test
"Test day, I felt prepared. I had a 1-hour lesson before the test to try and reduce the pre-test nerves but unfortunately it didn't really help. My instructor asked me to do a reverse around a corner (which was one I thought I had in the bag) and I ended up miles from the kerb and my instructor basically told me to stop as I was getting nowhere.
"We then made our way straight to the test centre (with me nearly in tears) and my previous confidence had now disappeared. I just wanted to get out of the car.
"My instructor asked if I wanted to use the loo before the test and in my anxious state I said yes - despite not needing to go. BUT the test centre didn't have a toilet on site, which my instructor did warn me about. Woops.
"We therefore had to search for a petrol station and park on double yellows. I ran in and shut the door, giving myself a mini pep talk: repeating out loud 'You can do this Kate - get a grip.'
"I took a deep breath, then walked out and bumped straight into a lady who was waiting to use the toilet. It hit me that the reason she was staring at me like I was an absolute freak was that she'd obviously just heard me chanting to myself in the loo. Brilliant."
How the test went
Waiting game

"I was directed to the waiting room and my calm attitude soon disappeared when I saw all the other learners looking like they were about to throw up (not a good idea when there is no toilet onsite!).

"The examiners soon came in, calling out people's names, and I was relieved to have a nice, smiley, lady call out my name - compared to the grumpy, 7-foot, bodyguard who called out the name before me.

Eye check and show me, tell me

"My examiner instantly put me at ease, asking me how I felt and where I worked. We had a good 5-minute conversation about ingenie before she asked me to read out a nearby car reg. No problem - what's next?

"Some safety questions: I was asked to pop the bonnet and lift up the lid. I asked the examiner if she could hold my folder with my theory certificate in it while I did this, at which she flinched and told me she couldn't hold any of my belongings and that I should put it in safe place. Awkward.

"After pointing out the windscreen washer and the brake fluid reservoir and explaining the min/max markers on them, the show me, tell me part was over. To be honest, I was a bit gutted that I didn't get to show off everything else I'd learnt. Still, better safe than sorry."

Off we go

"I was the last car behind a line of about 6 others taking their test at that time. So, once the examiner had told me to 'move off when you're ready', I deliberately faffed: adjusting my mirrors, blowing my nose etc., to allow the others time to move off so I had a clear exit in front. It worked a treat."

Emergency stop

"I was asked to do an emergency stop which I'd only ever practised once. My examiner told me that she would make sure it was safe before saying 'STOP' so when she looked over her shoulder it was pretty obvious it was coming."

Manoeuvre

"The dreaded manoeuvre - The Parallel Park. This went OK but was far from perfect and it felt like I'd touched the kerb right at the end so I was predicting an instant fail.

"Immediately after, I had to stop at a really steep, tight, junction and in my desperation to get round the corner without stalling, I clipped the kerb again. At this point I thought it was DEFINITELY all over."

The home straight

"I was nearly at the end when we came across a queue of traffic due to workmen trying to get their lorries out of a building site. I stopped in my lane and put my handbrake on while I waited for all the commotion to halt. But then to add to the kerfuffle, a coach pulled across the 'Keep Clear' section, blocking the entrance to the entire road. I was sandwiched!

"I continued to wait, trying to stay calm, before looking in my rear mirror and realising that I now had a bus and a queue of traffic behind me. There was nothing I could do. I told my examiner that I was just going to wait and creep forward when safe - she agreed and acknowledged that the coach had created a hazard.

"The coach eventually pulled forward and after remembering to check my blind spots and mirrors again, I started to creep forward. I was just about to turn into the junction when another learner who was on his test flew forward and slammed on his brakes to let a little old lady cross on her mobility scooter. I didn't know whether to laugh or cry at this point.

"Eventually the way was clear and I was able to turn into the road. The whole thing felt like something from a comedy sketch but the examiner told me that I'd done the right thing by staying put. She even had a chuckle at how ridiculous it was."
The result
"I pulled up outside the test centre and called my instructor over for the results. To my surprise, the examiner told me I'd passed! GET IN - although the victory was short-lived as she started to go through all my minors.
"My driving instructor congratulated me before driving me home and on reflection I realised that the whole thing wasn't actually as bad as I thought it would be. Confidence is key, but more importantly: staying determined even if you think you've totally messed it up.
"I also think that coming across a few difficult scenarios on the test gave me the opportunity to show the examiner that I could keep calm and remain in control for real-life situations on the road. Though deep down I really just wanted to strangle that coach driver!"
Katey's top tip for test success: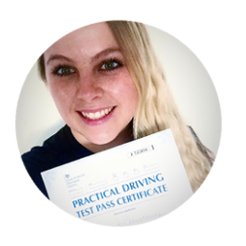 Try to straighten up your wheels when driving over speed bumps. My examiner thanked me before she got out the car for taking the speed bumps really carefully - she said it was a very pleasant and comfortable journey. 🙂

Katey
---