What should I do with the self-fit box if my insurance is cancelled by ingenie?
Once your insurance has been cancelled, we'll send you an email with a Freepost label to send the self-fit box back to us. All you need to do is:
1) Place the box inside an envelope
2) Print out the Freepost label at the bottom of the email
3) Post your box back to us
---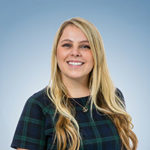 By Katey Gregory
Katey Joined ingenie in 2014 and is in charge of all things social and content. She passed her driving test in 2015 and her first car is a Toyota Yaris T3 named Tyrone.