What happens if my self-fit box is damaged during a service, MOT or repair?
If you think the garage may have damaged or interfered with your self-fit box, you should give us a call on 0333 2309 272 as soon as you get the car back so we can check to make sure the box is still sending us a signal. If your car has been in the garage and you think it may have affected your driving feedback, you can let us know the details
here
and we'll take a look for you.
---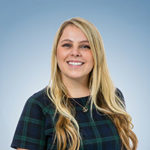 By Katey Gregory
Katey Joined ingenie in 2014 and is in charge of all things social and content. She passed her driving test in 2015 and her first car is a Toyota Yaris T3 named Tyrone.