How do I know my self-fit box is working?
When you plug in your self-fit box, a red LED light will flash. This shows it's working. Once you've plugged in your self-fit box and we're receiving a signal, you'll receive an email asking you to set up your driving feedback account. If you haven't received this email it may be a sign that something's wrong, and you should give us a call to check on 0333 2309 272.
---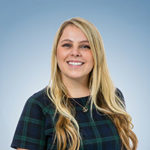 By Katey Gregory
Katey Joined ingenie in 2014 and is in charge of all things social and content. She passed her driving test in 2015 and her first car is a Toyota Yaris T3 named Tyrone.