ingenie's acts of kindness for our key worker heroes

Calling all NHS workers, nurses, doctors, delivery drivers, teachers, police officers, accountants, vets, bus drivers, supermarket staff, nursery nurses, pharmacists, charity workers... (inhales deeply)
We want to say how grateful we are for the INCREDIBLE work you're doing to keep our country running during the Coronavirus pandemic. You really are our heroes.
A lot of our drivers work in key worker jobs keeping the country safe, cared for, well fed and active, and while we can't personally thank everyone who's working during lockdown, we can show our appreciation with some acts of kindness.
Key workers are our frontline against Coronavirus at the moment and so we want to show our appreciation with some #actsofkindness. If you know someone who's working during lockdown, just tag them in this post and tell us why they deserve recognition. We'll do the rest.👍 pic.twitter.com/nu0AtiD7Yk

— ingenie (@ingenie) May 6, 2020
As well as going through our huge list of ingenie drivers who are working in essential roles at the moment, we also reached out on Facebook, Twitter and Instagram to ask our social community to nominate someone they know who is going above and beyond for others during this challenging time.
My mum who works in a manufacturing company that produce equipment for the NHS and the army ❤️

Emi
Instagram nomination
My daughter Nina is 19 and a paediatric student nurse, university is closed so Nina decided to sign up to work in the hot and cold adult A and E at our local hospital alongside doing online assignments and assessments for university! I'm one very proud Mum! Love you Yanina x

Debra
Facebook nomination
My friend, Louise who's a carer, working long and hard hours to support her residents. She has also suffered really badly with the Coronavirus symptoms, but luckily is feeling much better now 💙

Beverley
Instagram nomination
My partner Robert Leonard who's a bus driver, he always goes out of his way to help others x

Tracy
Facebook nomination
My partner Matt who's a senior nurse in a nursing home. He's taken on extra shifts and has also been working nights when he wouldn't usually have to. He's found it tough especially having to wear PPE on a continuous basis and having some pretty bad days than he usually would. He's made all our family and friends proud. ❤️

Tessa
Facebook nomination
My gorgeous mum Julie, who is keeping all the NHS workers vaccinated from other nasty things, helping them to help us!

Hannah
Instagram nomination
Tagging my bestie who's been busy working for the NHS and going the extra mile for patients. 💙💊🌈

Fatima
Instagram nomination
My partner Kristin Darwin. We both work in the care sector, I work in the community and he works in a home. On top of this we have two children to school at home. It is hard, but he is doing such an amazing job. You're an amazing dad Kristin and you're my hero, if nobody elses♡ we love you so so much x

Natasha
Facebook nomination
Both my mum (residential care home) and dad (Hereford Wye Valley Trust) are key workers working front line during this lockdown and are doing an amazing job of keeping everyone safe.

Leah
Facebook nomination
I received a lovely gift off you guys for being a key worker! I work in a nursery caring for the children who's parents are working hard as key workers - some frontline for the NHS. I feel nursery workers aren't getting the credit they deserve so this made me very happy receiving this gift. Thank you so much ❤️ #actsofkindness

Mollie
Instagram
Thank you, thank you and thank you again. We hope our heroic key workers enjoy their surprise gifts and hopefully get to put their feet up at the end of a busy day. You deserve it - oh and if we haven't said it enough - thank you.
---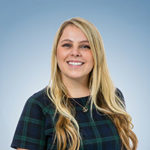 By Katey Gregory
Katey Joined ingenie in 2014 and is in charge of all things social and content. She passed her driving test in 2015 and her first car is a Toyota Yaris T3 named Tyrone.