ingenie drivers turn off their car engines to #StayAtHome

No one likes to be told they can't do something. No one likes restrictions. And no one likes having to cancel their social activities to spend all their week indoors. But when a crisis like an unprecedented health pandemic hits, we have to seriously listen to the advice we're given to keep ourselves and others safe.
The Government's strict instructions for everyone to stay at home to help stop the spread of Coronavirus (COVID-19) using self-isolation and social distancing measures has been a difficult adjustment for all. As a company based on supporting drivers, including learners and newly-passed drivers, we understand how frustrating it is to have to hang up the car keys for now.
We want to acknowledge the sacrifice our drivers have made, putting their lessons, driving practice and general life on hold to do their bit to support the Government's #StayAtHome campaign.
Our tech experts at ingenie have analysed the mileage data from our black boxes and have seen a significant drop in journeys, with our drivers currently driving around 70% less.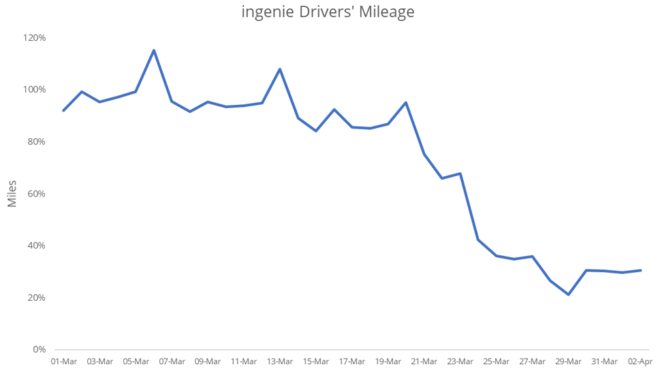 We want to say how pleased we are to see such a positive response from our driving community, adhering to these restrictions during such a difficult time.
On a typical week we would expect to see a consistent flow of journeys as our community drive to and from college, university or work or dropping children off at school. Due to office workers being encouraged to work from home where possible and schools being closed, we have seen a significant drop in the number of journeys being taken.
Of course, there are many of you who still need to drive due to being an essential worker (which can explain how on Mondays we see a slight uplift) , but overall we've seen lower mileage all of this week (30th March to 2nd April) than any weekdays last week. Good news for all.
A huge thank you to our customers currently working in essential services, keeping the UK running during the fight against Coronavirus. We're incredibly grateful and are clapping for you all.
How else you can do your bit to help beat Coronavirus
Aside from the single most important action you can take: staying at home - there are some things you can do (providing you are healthy and able) to safely offer your help.
Help households who are isolating by picking up essential items
Collect food shopping or medication for someone vulnerable
Keep in touch with others via phone or social media
Volunteering at food banks and homeless services
NHS volunteers (temporarily paused to process applications)
Here's the official Government guidance on how you can help during Coronavirus crisis.
You should stay 2m or six feet away from anyone you are helping and don't live with. Do not share a car journey with them.
---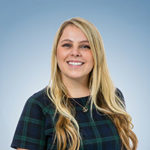 By Katey Gregory
Katey Joined ingenie in 2014 and is in charge of all things social and content. She passed her driving test in 2015 and her first car is a Toyota Yaris T3 named Tyrone.