Win big with our ingenie Rewards app

Does anyone ever get bored of winning money? Is that a thing?
It feels like only yesterday we gave away the last wad of cash and here we are again shelling out more money like a cheesy 80s game show. There's no speed boats at ingenie HQ though. Or cuddly toys.
For anyone reading this who wants a slice of this giant Christmas mince pie - you know what you need to do. Just download our ingenie Rewards app on iOS or Android, drive as you normally do, and you'll be entered into a prize draw every month for a chance to win £1,000.
Money, money, money
This is my favourite bit. Drum roll perrrrrlease...
November's winner is Hayley Ocallaghan from Stourbridge!
"I was so surprised when I read the email and I wasn't expecting it at all! I'm at uni and have exams after Christmas so I might book a holiday after that. I'd like to go skiing, I've never been before so this is definitely a good oportunity to go."

Hayley Ocallaghan
Good luck with those exams Hayley - hopefully you can squeeze in some revision over the holidays (not too much) and celebrate them being over by hitting the slopes after.
Break a leg?!
Start 2019 £1,000 richer
Get downloading and you could be next on the ingenie Rewards wall of fame.
Download for iOS
Download for Android
You can see the full terms and conditions here.
---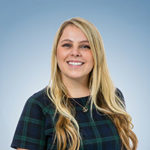 By Katey Gregory
Katey Joined ingenie in 2014 and is in charge of all things social and content. She passed her driving test in 2015 and her first car is a Toyota Yaris T3 named Tyrone.