Another big Rewards winner…

Can you believe we're STILL giving away £1,000 a month? Because we really can't.
Why are we doing it? Well, the app helps us research all things driving data and since you guys drive with a black box every day - we figured we didn't need to look any further for our experts.
The more miles you drive, the more times you'll be entered into a prize draw to win £1,000. We're giving it away once a month to one driver in the ingenie community who uses our Rewards app.
The results are in
October's winner is...Jessie Tannahill from Dudley.
I am delighted at this. I've just recently started uni so it'll go on food and few extra treats.

Jessie Tannahill
Congratulations Jessie. £1,000 to spend on food - that's what dreams are made of.
A little birdy told us that your birthday was on Christmas Eve too, so let's hope this cash means you can treat yourself to something as well as all the gift-buying!
Best of luck at uni, I'm sure you'll ace it.
Feeling a tad green-eyed?
Anyone who is an ingenie customer can drive with the ingenie Rewards app and take part in the research. However, to WIN, you'll need to meet these prize draw terms:
You must have an active ingenie policy
You must have an ingenie black box fitted in your car
You must not have had a Highly Dangerous black message
The ingenie Rewards app is free to download on iOS and Android. Get downloading guys!
Download for iOS
Download for Android
You can see the full terms and conditions here.
---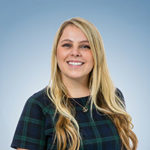 By Katey Gregory
Katey Joined ingenie in 2014 and is in charge of all things social and content. She passed her driving test in 2015 and her first car is a Toyota Yaris T3 named Tyrone.