A big birthday ingenie Rewards winner

Guess what, we're sending one of our drivers £1,000!
Did they have to sit an exam? No. Did they have to complete a triathlon? No. Did they just have to drive as they normally do? YEP.
By downloading the ingenie Rewards app you earn entries into our monthly prize draw. All you have to do is drive for a chance to win £1,000, it's as simple as that.
Congratulations Bekah Steele
So it turns out that it was Bekah's 18th birthday yesterday - what a way to celebrate!
Bekah's doing the right thing and saving half of the money and putting the rest towards a summer holiday. Sounds like a plan to us.
Make sure you send us a snap of you enjoying the sunshine - we love a good beach selfie.
Want in?
Download the ingenie Rewards app and you could be our next £1,000 cash winner.
Download for iOS
Download for Android
You can see the full terms and conditions here.
---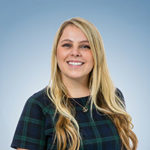 By Katey Gregory
Katey Joined ingenie in 2014 and is in charge of all things social and content. She passed her driving test in 2015 and her first car is a Toyota Yaris T3 named Tyrone.